APT PitchFest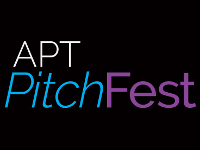 The annual APT PitchFest Live! competition will not take place during APT Fall Marketplace 2021. As APT Fall Marketplace has moved to a virtual platform due to continued travel concerns, the opportunity for the traditional live in-person experience is not possible. If you are interested in presenting a program for consideration, please send your submissions to PitchFest@APTonline.org.

What is APT PitchFest?
APT PitchFest is an American Public Television initiative that supports production of innovative new pledge programming on public television. Finalists are selected from the entries received during the submission period, presenting their programs live in front of a panel of content executives during a session at the annual APT Fall Marketplace. The winning entry will receive a Grand Prize of up to $75,000 in production funds, content development assistance, APT production distribution to the U.S. public media market, and other additional benefits. Past APT PitchFest funding recipients include Detroit Public Television/The Stress Solution with Dr. Rangan Chatterjee; WGCU/Surviving Disasters with Les Stroud and Growing Bolder's Launchpad To What's Next.