APT PitchFest 2018 has closed. Congratulations to our winners!
Please check this page in the coming months for updates regarding the next APT PitchFest event.
APT PitchFest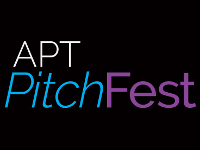 American Public Television (APT), the leading syndicator to U.S. public television stations, has launched the APT PitchFest, an initiative designed to find strong, innovative new content for public television viewers. APT will award a Grand Prize of up to $75,000 in production funds for APT PitchFest 2018. This inaugural APT PitchFest seeks entries for promising fundraising programs for public television.
Finalists will vie for the Grand Prize at APT PitchFest Live! during APT's Fall Marketplace in Baltimore on November 5 – 8, 2018. Fall Marketplace is the annual conference which showcases up to 100 new content offers to the public television stations.
APT is looking for outstanding pledge proposals, pilots, or programs in production needing finishing funds or co-production money.
The submission period opens August 9, 2018 and closes September 27 at 11:59 p.m. ET. Entrants are encouraged to submit at any time during this period.
Finalists will competitively present their projects to a panel of seasoned content executives at APT PitchFest Live!, held November 8, 2018 during APT Fall Marketplace. The finalists will be judged on multiple points, including the quality of the proposal, chance of success, innovative aspects, and the execution of their pitch.
The winner will receive the Grand Prize with an award ranging up to $75,000 in production funds, plus assistance in bringing the content to fruition, anticipated distribution access to the U.S. public media market via APT, a free registration to APT Fall Marketplace 2019, and additional production benefits.
The winner of APT PitchFest Live! will be announced November 8, 2018 at the close of the pitch session.
So, prepare your best pledge show entries and aim to win!
Submission Guidelines & Materials
Submission Form
Fall Marketplace