Shawn Halford
Executive Vice President, Content, and Vice President, Exchange & Digital Services
---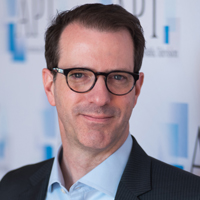 Shawn Halford is APT's Executive Vice President, Content, and Vice President, Exchange & Digital Services. Halford joined APT in Fall 2018, succeeding Chris Funkhouser, who retired after 40 years in public media.
Halford oversees a wide range of popular and high-quality programming genres in Exchange, APT's largest programming division. This includes television brands ranging from
America's Test Kitchen
and
Rick Steves' Europe
to
Nightly Business Report
and hundreds of award-winning documentaries. He is also a key manager in the team distributing the national lifestyle channel Create and the non-fiction WORLD channel, two leading public media multicast services.
Before coming to APT, Halford was Senior Director for Programming and Scheduling at PBS. For more than 20 years he was known for his strategic leadership of content development and scheduling to drive consumer engagement. He led the PBS primetime schedule to viewership gains in an era of audience fragmentation, managed the PBS Plus syndication service, and has been steeped in cross-departmental collaborations with PBS digital teams on multiplatform content rollout.
Halford was integrally involved with launching PBS' free video on demand. In addition, working with his colleagues, Halford's strategies increased cumulative audience, frequency, and time spent viewing for PBS news and public affairs content.
Before joining PBS, Halford served in programming and network operations at Discovery Communications from 1993-1997. At Discovery Channel and TLC, Halford scheduled content, implemented new program clocks to better flow audience from program to program, and devised strategic promotions scheduling.