American Public Television Announces Changes to Senior Leadership Programming Team Effective December 2021
Dan Soles named Vice President, Syndication and Premium Service

Eric Luskin to retire in early 2021 after 25 years with APT

Shawn Halford elevated to Executive Vice President, Content, and Vice President, Exchange & Digital Services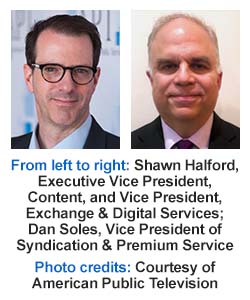 BOSTON, MA (November 22, 2021)
– American Public Television (APT), the leading syndicator of content to U.S. public TV stations nationwide, today announced leadership changes for its Exchange, Syndication and Premium Service programming strands, effective December 17.
Shawn Halford, Vice President of Exchange Content & Digital Services since 2018, has been promoted to the position of Executive Vice President, Content, and Vice President, Exchange & Digital Services, reporting to APT president and CEO Cynthia Fenneman. He will oversee all programming strands at APT available to public television stations ̶ Exchange, Syndication and Premium Service. Prior to APT, Halford spent more than 20 years in content development and scheduling at PBS, serving as Senior Director for Programming and Scheduling from 2006 to 2018.
Public media programming veteran Dan Soles has been named Vice President of Syndication & Premium Service. Reporting to Shawn Halford, Soles will be responsible for sourcing and licensing primetime and fundraising content for the public television system from a variety of domestic and international sources. He succeeds Eric Luskin, who will retire in late January 2022 after 25 years at APT, securing iconic programs during his tenure including drama series
Midsomer Murders, Ballykissangel, Doc Martin, Rosemary & Thyme,
and
Pioneer Quest;
pledge programs such as
Bee Gees: One Night Only, Leonard Cohen,
and
Great Scenic Railway Journeys;
the international co-production
Jesus: Countdown to Calvary;
as well as limited series and documentaries, with recent offerings
Marian Anderson: Once in a Hundred Years,
and
The Stand: How One Gesture Shook the World.
"Eric has built a tremendous legacy full of successful and important programming for viewers nationwide. We are very appreciative of his decades of hard, smart work and wish him the best of adventures ahead. And I am so pleased that Shawn and Dan together will take the APT programming reins and continue to find promising content and new voices that will become tomorrow's must-see and memorable titles," said Fenneman. "Their combined experience and relationships in both the national and local arenas will be crucial for providing quality content to the public media system."
"Dan has a wealth of knowledge in local and system-wide programming, building public media audiences and creating an inclusive environment for both viewers and content creators," notes Halford.
"I'm very excited to start the next phase of my public media career with an organization and team I highly respect at American Public Television. In my new role, I'm looking forward to building on the great work of Eric Luskin and finding compelling content from international, national and local sources to serve public television stations," said Soles.
Soles joins APT after nearly three decades in public media, most recently as the Vice President of Programming at The Programming Service for Public Television since 2019. Previous experience includes nearly two decades at WTTW, serving as Senior Vice President and Chief Television Content Officer from 2006 to 2019. In that role, Soles oversaw programming, local and national productions, on-air fundraising and community engagement. His public media career began at Georgia Public Broadcasting in a variety of roles in program scheduling. He holds executive producer credits on programs including 10 That Changed America and Weekend in Havana, the production of which helped Soles connect with his family heritage. Currently serving as a board member of Latino Public Broadcasting, Soles has been a past president of the Public Television Programming Association (PTPA) board, and has participated on advisory boards and panels for PBS Kids, ITVS, and the National Endowment for Humanities. He is a graduate of Emory University.
Regarding Halford's promotion, Fenneman said, "In just three years, Shawn has contributed tremendously to APT's Exchange and Digital Services for the system, launching new titles such as
Legacy List with Matt Paxton,
the annual
The Anisfield-Wolf Book Awards
hosted by Dr. Henry Louis Gates, Jr., the
London New Year's Day Celebration, Dismantling Democracy,
and
Rick Steves Europe Awaits;
securing rights for linear live streaming and Passport; enhancing the Create program schedule; and working on distribution expansion of WORLD channel."
"Shawn's passion for content, intelligence, professionalism, appreciation of data, and aptitude for processes are most instrumental as the content world becomes more complex and rich with opportunity. He will serve APT and public media well with our three content divisions under his purview," added Fenneman.
###
About American Public Television
American Public Television (APT) is the leading syndicator of high-quality, top-rated programming to the nation's public television stations. Founded in 1961, APT distributes 250 new program titles per year and more than one-third of the top 100 highest-rated public television titles in the U.S. APT's diverse catalog includes prominent documentaries, performance, dramas, how-to programs, classic movies, children's series and news and current affairs programs.
Doc Martin, Midsomer Murders, America's Test Kitchen From Cook's Illustrated, AfroPoP, Rick Steves' Europe, Pacific Heartbeat, Christopher Kimball's Milk Street Television, Legacy List with Matt Paxton, Front and Center, Lidia's Kitchen, Kevin Belton's New Orleans Kitchen, Simply Ming, The Best of the Joy of Painting
with Bob Ross, James Patterson's
Kid Stew
and
NHK Newsline
are a sampling of APT's programs, considered some of the most popular on public television. APT also licenses programs internationally through its APT Worldwide service and distributes Create®TV — featuring the best of public television's lifestyle programming — and WORLD™, public television's premier news, science and documentary channel. To find out more about APT's programs and services, visit APTonline.org.
Press Contacts:
Olivia Wong
APT Vice President, Marketing and Communications
Olivia_Wong(at)APTonline.org
Hunter Kossodo
Public Relations Associate
Hunter_Kossodo(at)APTonline.org