American Public Television Presents 2017 Lifetime Achievement Award
Linda O'Bryon, former president and CEO of SCETV and dedicated public broadcasting leader, honored with APT Lifetime Achievement Award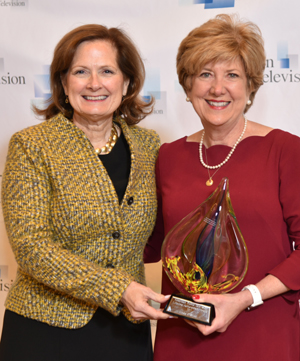 BOSTON (December 7, 2017) – American Public Television (APT), a leading distributor of programming to the nation's public television stations, recently presented its 2017 Lifetime Achievement Award to Linda O'Bryon, former president and chief executive officer at South Carolina Educational Television (SCETV), at its annual Fall Marketplace meeting in Salt Lake City.
APT President and CEO Cynthia Fenneman honored O'Bryon for her numerous contributions to public television, and the important leadership roles she has held in the industry. O'Bryon's career in public television spans four and a half decades— from her first broadcast position in the news department at KCPX (now KTVX), the ABC affiliate in Salt Lake City, to serving as Chief Content Officer at KQED in Northern California - one of the most-watched public television and most-heard public radio broadcasters in the country, and to her most recent position as president and CEO of SCETV for seven years.
Before her executive position at KQED, O'Bryon was news director at Miami's WPBT (now South Florida PBS). O'Bryon established TV's first daily business news program,
Nightly Business Report (NBR)
, which began as a locally produced, 15-minute daily summary before expanding to a half-hour and then becoming nationally syndicated. As executive editor she created a program that has become a mainstay on national public television for more than 30 years. During her time at
NBR,
O'Bryon was the program's original co-anchor, where she remained for 12 years. Distributed by APT to more than 250 local public television stations, NBR became the most-watched television evening business news program. O'Bryon served as general manager for NBR Enterprises in Miami for 16 years. In that role, she coordinated international co-production partnerships, developed digital and educational initiatives associated with
NBR,
and managed editorial and business operations. She left
NBR
in 2006 to become chief content officer for public media station KQED in San Francisco.
O'Bryon has been highly recognized for her work. In 2004, she was the recipient of the Distinguished Achievement Award from the Society of American Business Editors and Writers. In addition, she was granted the national Lifetime Achievement Award from the National Academy of Television Arts and Sciences. This year, she was honored by South Carolina Governor Henry McMaster with the Order of the Palmetto, considered the highest civilian honor in the state, recognizing those who have made significant contributions to the well-being of South Carolina and its residents.
Recently retired from her position at SCETV, O'Bryon was a director on the Board of PBS for five years, where she served on the Executive and Finance Committees. She was Vice Chair of the PBS Station Services Committee and Chair of the Working Group on Underserved Areas. She is also a member on the Board of Trustees for APT. She served as a trustee for the Central Carolina Community Foundation, and is a graduate and Fellow of the Midlands Diversity Leaders Initiative of the Riley Institute at Furman.
About APT:
American Public Television (APT) is the leading syndicator of high-quality, top-rated programming to the nation's public television stations. For more than 10 years, APT annually distributed one-third or more of the top 100 highest-rated public television titles in the U.S. Founded in 1961, APT features 250 new program titles per year including prominent documentaries, performance, news and current affairs programs, dramas, how-to programs, children's series and classic movies. America's Test Kitchen From Cook's Illustrated, Cook's Country, Rick Steves' Europe, Christopher Kimball's Milk Street Television, Front and Center, Doc Martin, Nightly Business Report, Midsomer Murders, A Place to Call Home, Lidia's Kitchen, Globe Trekker, Simply Ming, AfroPoP and P. Allen Smith's Garden Home are a sampling of APT's programs, and among the most popular on public television. APT licenses programs internationally through its APT Worldwide service. Approaching its 13th year, Create®TV — featuring the best of public television's lifestyle programming — is distributed by American Public Television. APT also distributes WORLD™, public television's premier news, science and documentary channel. To find out more about APT's programs and services, visit APTonline.org.
Contact: Jamie Haines
617-338-4455, ext. 129
Jamie_Haines@APTonline.org
# # #