Multiple Industry Awards Presented, Nearly 80 Titles Screened: American Public Television's Fall Marketplace 2017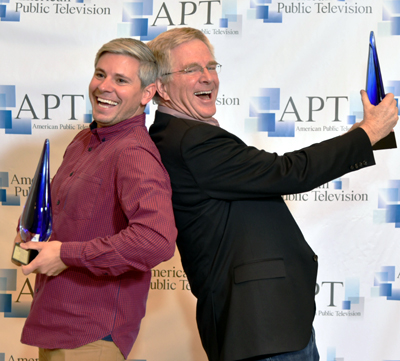 BOSTON (December 7, 2017) – At the recent American Public Television (APT) annual Fall Marketplace in Salt Lake City, Utah, about 240 public television leaders and celebrities participated in program screening, professional development, events and the presentation of several industry awards. The annual Fall Marketplace meeting presents producers, hosts and content stars to the nations' public television programming community. Amid the screening of nearly 80 new titles and returning seasons of favorite programs, APT presented key industry awards, recognizing leaders and honoring programmers and producers for outstanding work from the previous year. Founded in 1961 as a distributor of programming to public television stations, APT was the first to deliver such memorable programs as
The French Chef With Julia Child, Mister Rogers' Neighborhood, The Three Tenors
and
Monty Python's Flying Circus
to national U.S. audiences. APT is now the leading syndicator of content to U.S. public television stations, distributing nearly 250 new titles per year and offering 7,500 program hours in rights.
New content featured at APT Fall Marketplace
A mix of programs from APT Syndication included the documentary
Jesus: Countdown to Cavalry
, presented by Hugh Bonneville
(Downton Abbey, Paddington)
and releasing in March 2018. With a degree in theology from Cambridge, Bonneville traveled to Jerusalem to tell the story of the last six days' of Jesus' life.
And Then There Were None
is a miniseries based on Agatha Christie's book of the same name, one of the best-selling crime novels of all time. This will be the series' first broadcast on public television.
Spying on the Royals,
a two-part documentary about the behind-the-scenes information-gathering focused upon King Edward VIII and Wallis Simpson, tells the story from a very different angle. And,
Midsomer Murders 13,
returns viewers to the never-ending scene of the crime, with twists and turns in this top-rated favorite.
APT Exchange programs included new seasons of a number of public television's most favorite series, from
Joseph Rosendo's Travelscope
to the 10th season of
AfroPoP: The Ultimate Cultural Exchange
and
Pacific Heartbeat.
New title
Vermeer, Beyond Time,
narrated by Steve Martin, examines the famous artist's paintings and his infamous style, bringing to light his personal life amidst the studied allure of his works. Two documentaries releasing in early 2018 present important stories for Black History Month.
We Knew What We Had: The Greatest Jazz Story Never Told
features the talent of international jazz legends and the social conditions and events that made Pittsburgh one of the world's leading music cities.
Fighting on Both Fronts: The Story of the 370th
is a documentary about the African-American, Illinois, soldiers' unit which fought for the U.S. under the French in WWI. It highlights their war against the Germans and against racism and inequality.
Lifetime Achievement Award
APT president and CEO, Cynthia Fenneman, presented APT's Lifetime Achievement Award to public television veteran, Linda O'Bryon. O'Bryon recently retired as president and chief executive officer at South Carolina Educational Television (SCETV) where she has served for more than seven years. O'Bryon started her public media career at Miami's WPBT, writing and reporting news after receiving an undergraduate degree at the University of Miami and working in commercial television.
During her years at WPBT, O'Bryon founded TV's first daily business news program,
Nightly Business Report (NBR).
As executive editor, she created a program that has become a mainstay on national public television for more than 30 years. Distributed by APT, it is one of the most highly carried programs on public television today. During her time at
NBR,
O'Bryon was the program's original co-anchor, a position she held for 12 years.
NBR
became the most-watched business news program, distributed to more than 250 local public television stations. O'Bryon served as general manager for NBR Enterprises in Miami for 16 years. In that role, she coordinated international co-production partnerships, developed digital and educational initiatives associated with
NBR,
and managed editorial and business operations. She left NBR in 2006 to become chief content officer for public media station KQED in San Francisco, one of the most popular public media entities in the nation.
In 2010, O'Bryon was selected to lead South Carolina ETV. For seven years, she was at the helm of the 11 TV and eight radio station network. Under her leadership, SCETV experienced tremendous ratings growth in both TV and radio, the development of a state of the art radio facility, record-breaking increases in the station's endowment, and successful participation in the recent spectrum auction, the proceeds of which will allow for investing in a major capital plan designed to update and improve the station's infrastructure.
O'Bryon has been highly recognized for her work. In 2004, she was the recipient of the Distinguished Achievement Award from the Society of American Business Editors and Writers. In addition, she was granted the national Lifetime Achievement Award from the National Academy of Television Arts and Sciences. This year, she was honored by South Carolina Governor Henry McMaster with the Order of the Palmetto, considered the highest civilian honor in the state, recognizing those who have made significant contributions to the well-being of South Carolina and its residents.
Recently retired from her position at SCETV, O'Bryon was a director on the Board of PBS for five years, where she served on the Executive and Finance Committees. She was Vice Chair of the PBS Station Services Committee and Chair of the Working Group on Underserved Areas. She is also a member of the Board of Trustees for APT. She served as a trustee for the Central Carolina Community Foundation, and is a graduate and Fellow of the Midlands Diversity Leaders Initiative of the Riley Institute at Furman.
Program Excellence Awards
Fenneman presented three Program Excellence Awards to honor a select few of the best programs distributed by APT last year. With more than 4,000 titles in rights, APT's catalog is one of the largest in public media. Since 2002, a select number of programs have been honored each year for their originality, execution, creativity, the scope of content and effectiveness in reaching audiences and engaging them on local public television stations.
Winners of this year's awards are:
A PLACE TO CALL HOME: a 7 Studios production for Seven Network Australia and Foxtel, with worldwide distribution by Endemol Shine International. Licensed for public television broadcast via Acorn Media Group.

A critically acclaimed, compelling drama series, A Place To Call Home explores the ties that hold families together – and the betrayals that can tear them apart. Starring award-winning Australian Marta Dusseldorp, the series is set in the 1950s and follows the fate of an upper-class Australian family and their mysterious nurse as she returns to her native country after two years in Europe. The mix of talent and the incredibly dark and complex story line have received accolades from U.S. industry and national press including the New York Times, Hollywood Reporter and Entertainment Weekly.
ROADTRIP NATION: Producer/videographer Dan Ford, and Ainé Henderson and the presentations team at public media station KQED.

What started as a road trip to learn how people who love what they do got "there," sparked a documentary series now celebrating its 15th season. Dedicated to helping young individuals map out their own "roads" in life, the series offers complementary, best-selling books, personalized online tools, video content and educational organizational and live events to help them define and achieve their goals. Each year, the series had presented a diverse and relevant collection of resources to help young people discover and understand the vast scope of careers and possibilities.
RICK STEVES' EUROPE and RICK STEVES' specials: Rick Steves

From his production of a ten-part series broadcast on nearly 100% of the nation's local public television stations, to a mix of specials highlighting exclusive content featuring popular and lesser-known regions of the world, Steves has produced content loved by viewers for more than 25 years. In the past year alone, Steves delivered eight specials including: Andalucia: The Best of Southern Spain; Rick Steves' Guide to Cuba; Luther and the Reformation; Rick Steves' Europe: Great German Cities; Heart of Italy; Rick Steves' Tasty Europe; European Festivals; and 30 Travel Bites featuring useful travel tips. During that time, Steves has been recognized for his generous donation of the Trinity Place housing complex in Lynnwood, Washington, which serves as transitional housing for homeless women and children. The host of productions so popular with viewers, Steves takes an active role in helping local public television stations raise money from their viewers, and has participated in fundraising at 20 stations in the past year.
Savvy Scheduler Awards
Finally, Fenneman presented awards which recognize specific local public television station programmers who best use APT programming to complement and build their schedules. Called, Savvy Scheduler Awards, this recognition has been presented for nearly 15 years and is based on independent research from TRAC Media, this year covering September 2016 through September 2017. The analysis from TRAC informs which stations have APT's programs outperforming their local schedule in a particular daypart.
Winners of this years' awards are:
Stations with Greatest Full Day APT Ratings Increase Over Station Full Day Average

48% increase: WETA, Washington, DC
37% increase: WPBT, Miami
36% increase: WSBE/Rhode Island PBS
32% increase: UNC-TV, Greenville-Spartanburg-Asheville, North Carolina
29% increase: WTTW, Chicago

WETA's Kevin Harris, and WPBT's Frances Hernandes accepted the First and Second place Savvy Scheduler/Full Day awards.
Stations with Greatest Prime Time APT Ratings Increase Over Station Prime Time Average

82% increase: UNC-TV, Greenville-Spartanburg-Asheville, North Carolina
36% increase: Houston Public Media/KUHT
32% increase: KCETLink, Los Angeles
27% increase: WGCU, Ft. Myers-Naples, Florida
22% increase: KUED, Salt Lake City

UNC-TV's Brian Sodemann is the recipient of this year's First Place award for prime time.
About APT:
American Public Television (APT) is the leading syndicator of high-quality, top-rated programming to the nation's public television stations. For more than 10 years, APT annually distributed one-third or more of the top 100 highest-rated public television titles in the U.S. Founded in 1961, APT features 250 new program titles per year including prominent documentaries, performance, news and current affairs programs, dramas, how-to programs, children's series and classic movies. America's Test Kitchen From Cook's Illustrated, Cook's Country, Rick Steves' Europe, Christopher Kimball's Milk Street Television, Front and Center, Doc Martin, Nightly Business Report, Midsomer Murders, A Place to Call Home, Lidia's Kitchen, Globe Trekker, Simply Ming, AfroPoP and P. Allen Smith's Garden Home are a sampling of APT's programs, and among the most popular on public television. APT licenses programs internationally through its APT Worldwide service. Approaching its 13th year, Create®TV — featuring the best of public television's lifestyle programming — is distributed by American Public Television. APT also distributes WORLD™, public television's premier news, science and documentary channel. To find out more about APT's programs and services, visit APTonline.org.
Contact: Jamie Haines
617.338.4455.ext 129
Jamie_Haines@APTonline.org
# # #