Shawn Halford Named American Public Television's New VP Exchange Content and Digital Services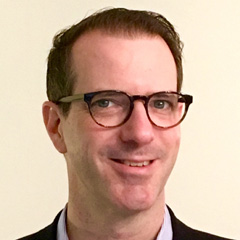 Boston (September 11, 2018)
– American Public Television (APT) announced today that Shawn Halford, an accomplished public television leader who has held key national content positions at PBS and Discovery Communications, has been named APT's Vice President of Exchange Content and Digital Services starting in October. Halford succeeds Chris Funkhouser, who is retiring after 40 years in public media.
Currently PBS's Senior Director for Programming and Scheduling, Halford is known for his strategic leadership of content vision, planning, development, scheduling and business intelligence to drive consumer engagement. He was central to the team that boosted PBS' network primetime audience ranking from 12th to 6th place. At PBS for more than 20 years, he has been critical to the planning and execution of high-impact, multiplatform events, including the 2017 Ken Burns series
The Vietnam War,
reaching more than 39 million unique viewers on broadcast, and millions more via on demand platforms.
At APT, Halford will oversee a wide range of popular and high-quality programming genres in the distributor's largest programming division. His APT portfolio will include television brands ranging from
America's Test Kitchen
and
Rick Steves' Europe
to
Nightly Business Report
and hundreds of award-winning documentaries. Halford will also be a key manager in the team distributing the national lifestyle channel Create and the non-fiction WORLD channel, two leading public media multicast services.
According to Cynthia Fenneman, APT president and CEO, Halford was selected from an extensive pool of highly qualified candidates. "Popular, talent-driven and smart content is at the heart of APT's work," said Fenneman. "Shawn brings a passion for content, public media and cable network experience, solid understanding of digital platforms, strong respect from peers across the system, stellar integrity, and strategic thinking skills – all central to APT's organizational direction now and in the future. A prolific content leader, he will be collaborating with producers worldwide and public TV stations to provide compelling, worthwhile content for viewers."
Halford has built an impressive career in public media during which he has forged strong relationships with APT's station customer base. Along with his oversight of content execution strategies, he managed the PBS Plus syndication service and has been steeped in cross-departmental collaborations with PBS digital teams on multiplatform content rollout and with marketing and communications on the most effective content launch strategies.
About joining the senior team at APT, Halford said, "I have immense respect for the American Public Television team, and I am thrilled to join the APT ranks to help chart the course in a changing media landscape. I am drawn to both APT's storied legacy as the leading syndicator of high-quality, top-rated programming to the nation's public television stations, and the prospect of working with APT's award-winning and popular content and digital channels for public media."
Halford joined PBS in 1997 as Associate Director of PBS Program Scheduling. Since then his position has grown, first to Director of PBS Program Scheduling and Editorial Management. In his early years, Halford was central to the launch team and scheduled the first PBS HD channel, multicast PBS Kids Channel and PBS You Channel. Since moving to his current position of Senior Director, Programming and Scheduling in 2006, he has been central to the strategic planning and scheduling of content for both national PBS general audiences and for children's content across multiple channels and platforms. In addition, he was integrally involved with launching and programming the PBS free video on demand presence currently available in more than 43 million homes. Working with his colleagues, Halford's strategies increased cumulative audience, frequency, and time spent viewing for PBS news and public affairs content, the only TV network to do so for two consecutive years surrounding the 2016 election cycle.
Before joining PBS, Halford served in programming and network operations at Discovery Communications from 1993-1997. At Discovery Channel and TLC, Halford scheduled content, implemented new program clocks to better flow audience from program to program, and devised strategic promotions scheduling.
After graduation with a B.A. in Communications from Penn State University, Halford's first position was at Nostalgia Television, where he worked in programming and traffic, including work as a segment producer and production assistant.
Halford joins APT on October 10, 2018 when he will begin transitioning into the position with Chris Funkhouser. Funkhouser is retiring in early November after 20 successful and prolific years at APT and another 20 years in public media, including programming positions at Vermont Public Television, New Hampshire PBS and WLIW/New York. "The mark that Chris has left in public media is exceptional and everlasting. We will greatly miss Chris, as will many people at stations and production companies, and wish him many adventures in retirement. And we welcome Shawn who we know will build upon, in many new and forward-thinking ways, the formidable work of APT Exchange," said Fenneman.
About American Public Television
American Public Television (APT) is the leading syndicator of high-quality, top-rated programming to the nation's more than 360 public television stations. Founded in 1961, APT distributes 250 new program titles per year and one-fourth of the top 100 highest-rated public television titles in the U.S. APT's diverse catalog includes prominent documentaries, performance, news and current affairs programs, dramas, how-to programs, children's series and classic movies.
America's Test Kitchen From Cook's Illustrated, Cook's Country, AfroPoP, Rick Steves' Europe, Chris Kimball's Milk Street Television, Front and Center, Doc Martin, Nightly Business Report, Midsomer Murders, A Place to Call Home, Lidia's Kitchen, Globe Trekker, New Orleans Cooking With Kevin Belton, Simply Ming,
and
P. Allen Smith's Garden Home
are a sampling of APT's programs, considered some of the most popular on public television. APT also licenses programs internationally through its APT Worldwide service and distributes Create®TV — featuring the best of public television's lifestyle programming — and WORLD™, public television's premier news, science and documentary channel. To find out more about APT's programs and services, visit https://APTonline.org.
CONTACT:
Jamie Haines, APR,
APT VP of Communications,
Jamie_Haines@APTonline.org
617-338-4455 x 129
Download
Shawn Halford photo.
Caption: Shawn Halford